Alumni History and Updates
Recent Events:
October 6 2007 - Randy Arillaga inducted into SHS Hall of Fame
December 29 2007 - Alumni wins first game in four years against SHS Varsity, 'Old Alumni' wins for 2nd year in a row.
November 26, 2008 - Alumni wins 2nd in a row against the varsity 55-45 and 'Young Alumni" wins a nail biter on Chris Etterman's 35 footer. 73-69
November 27, 2009 - Alumni wins 3rd in a row against the varsity pulling away in the 4th quarter for a 61-47 win and old alumni wins
November 26, 2010 - Alumni wins 4th in a row against the varsity in a hard fought game for a 58-50 win and new alumni wins by 3
November 25, 2011 - Alumni wins 5th in a row against the varsity in a hard fought game for a
November 30, 2012 - Alumni is stunned by the Saratoga varsity who plays a spectacular game to defeat the alumni.
November 29, 2013 - Alumni crushes Saratoga varsity to get revenge for 2012.
August 2014 - Saratoga celebrates the posting of the SHS ALL Time List in the gym
November 28, 2014 - Shorthanded alumni team of 7 loses 13 point lead in 4th quarter in 67-62 loss.
November 27, 2015 - Alumni again loses lead in 4th quarter as varsity wins in back to back years.
November 25, 2016 - Alumni lose by 10
November 24, 2017 - Alumni ends 3 year losing streak with 76-65 win

Click on Image to enlarge!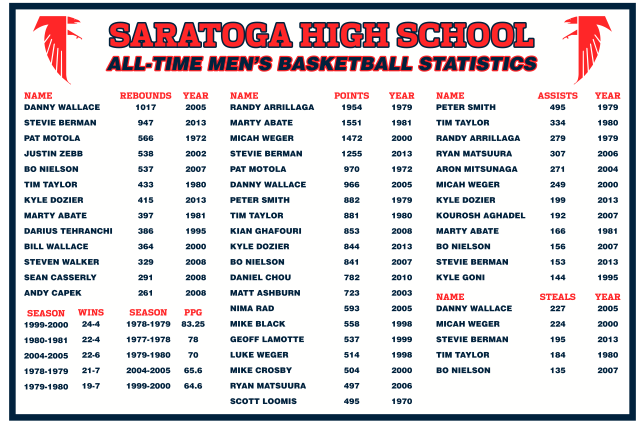 Scroll down the side to see Saratoga's rich basketball history