Menu:
Coach's Message:
2/28/18
This page is dedicated to maintaining the history of those who have put a lot of time on the hardwood representing Saratoga High School and helping us keep in contact with each other. Come out and play in our annual alumni game each Friday after Thanksgiving and join us at Jake's afterward to relive the old days and become familiar with the new players holding up the mantle.
Alumni Game History
Saratoga Alumni is 7-8 in the alumni game since 2003.
Years that varsity won: 2003-2006, 2012, 2014-2016 Years that alumni won: 2007-2011, 2013, 2017
Alumni History and Updates
Saratoga High All Time Record Board Click on Image to enlarge!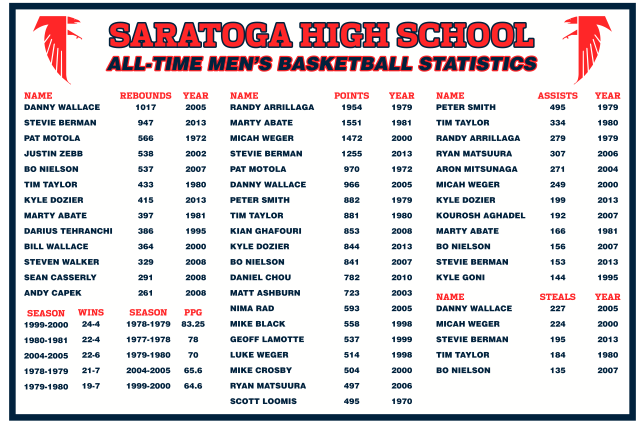 Scroll down the side to see Saratoga's rich basketball history
Recent Events:
October 6 2007 - Randy Arillaga inducted into SHS Hall of Fame
December 29 2007 - Alumni wins first game in four years against SHS Varsity, 'Old Alumni' wins for 2nd year in a row.
November 26, 2008 - Alumni wins 2nd in a row against the varsity 55-45 and 'Young Alumni" wins a nail biter on Chris Etterman's 35 footer. 73-69
November 27, 2009 - Alumni wins 3rd in a row against the varsity pulling away in the 4th quarter for a 61-47 win and old alumni wins
November 26, 2010 - Alumni wins 4th in a row against the varsity in a hard fought game for a 58-50 win and new alumni wins by 3
November 25, 2011 - Alumni wins 5th in a row against the varsity in a hard fought game for a
November 30, 2012 - Alumni is stunned by the Saratoga varsity who plays a spectacular game to defeat the alumni.
November 29, 2013 - Alumni crushes Saratoga varsity to get revenge for 2012.
August 2014 - Saratoga celebrates the posting of the SHS ALL Time List in the gym
November 28, 2014 - Shorthanded alumni team of 7 loses 13 point lead in 4th quarter in 67-62 loss.
November 27, 2015 - Alumni again loses lead in 4th quarter as varsity wins in back to back years.
November 25, 2016 - Alumni lose by 10
November 24, 2017 - Alumni ends 3 year losing streak with 76-65 win